I was thinking about posting my short form clips all week. I have literally HUNDREDS of clips, and a couple hundred gaming clips. Not to mention new ideas for series every week.
Yet, what is my strategy? What are the tools I'll use to post them? Not to mention how do you accomplish these goals?
I'll be honest this particular newsletter was partially inspired by this video:
---
Why? I can't believe anyone would ask that at this point...
If you have to ask why is it important to be on these social media short form platforms, then I have to ask if you have been under a rock? I know I've been around the space for a long time, and so it is easy to get caught up in it.
However even grandparents now have been getting on these platforms, and people my age have been them since the start (despite it being "for teens").
The point is that this type of content grows rapidly, and it also is a unique way for you to share your knowledge.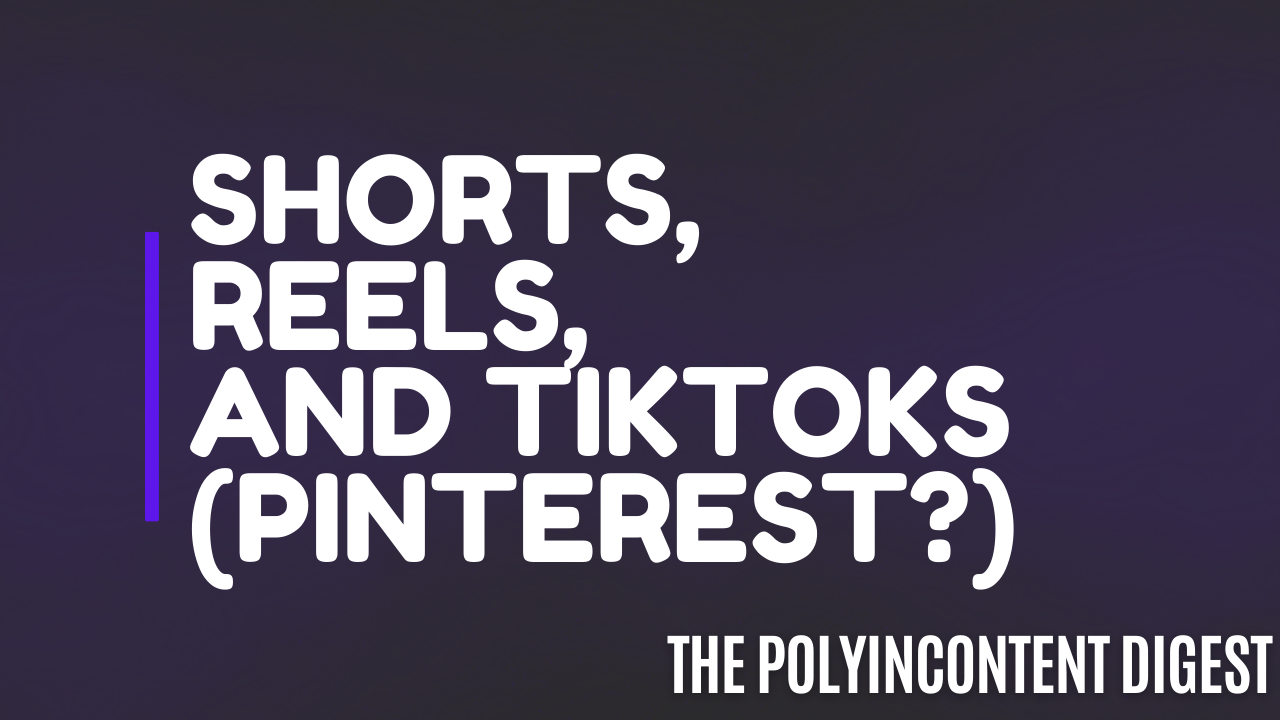 ---
How does this Short Form Video strategy work?
Okay so I'm going to say something that might seem outrageous: I think you should be posting to Tiktok 10 times a day!
Reels and shorts it gets a bit more complicated. Such as when you decide to post reels as a "post" to your feed, then 10 may be a bit much, but the same doesn't go for shorts as you can post as much as you want. However the niche parameters change based on all three platforms. The same niche acts differently depending on the platform.
Back to Tiktok though, I honestly came up with this idea years ago, and I've been on Tiktok literally since the beginning of 2018. Over the five years of being on the platform, seeing how this short form content has changed. For a while I thought 5-6 per day, but now to get as many chances as you can you should do 10 HIGH QUALITY posts.
Keep in mind it should probably be a mixture of different post types too.
Automation
You've might've seen reddit videos, quote images with text to speech, and various gaming platform videos with stories attached. These all are automatically generated, and some with AI.
While they make for interesting posts, and more importantly quickly to create. They are not high quality, and the only way to make them more 'high quality" is to niche down. For example my "meta-niche" or main topic is polymathy, which there aren't many creators for, let alone on tiktok for example. So if I were to make quote videos for that subject it would make that quote style more higher quality, FOR THAT particular audience.
High Quality Content
...from the get go. Meaning you have to be coming from a place of providing value. Not the selfish "I want to grow" mentality. Don't get me wrong I really want to grow too, but I am not going to spam my audience with low quality content (like how the person in the video at the top of the post did). Even they said to spend more time, and that they were only experimenting to go as fast as possible.
Again posting 10 crap pieces isn't going to help you, and we have all been there at some point. I've been saving audios for half a decade, and have great audios to choose from for Tiktok. However that doesn't matter if I don't make an entertaining video from that audio.
Using a Scheduler
I mentioned in the beginning "what are the tools I'll use?", and quite honestly I am not sure. I'll probably go with Publer for my social media management tool, as it has the best bulk upload from what I can tell. I've been trying to find any tool that can do it better, but they almost ALL use the CSV bulk format. Which for the scale I'm doing is not ideal.
At this point I literally cannot do it the manual way, there are just too many posts, and for 3 platforms that is too much work. Meaning that using a tool to make it happen automatically is key. Do note you could use something like Repurpose.io to take your tiktoks and automatically post to Shorts and Reels. So then you only have to post ONCE.
I intend on trying to post natively through the tool, so that I can keep the highest quality bitrate as I can. Plus I want to take time to make solid descriptions and titles if I can help it.
---
Highlighted Tool of the Week: Vertical OBS Plugin by Aitum
Create vertical videos at ease with Aitum's and Harris Heller's OBS plugin, that creates a second canvas based in the vertical aspect ratio.
I actually bought my Logitech Streamcam (another reccomneded product), so that I could position it in the vertical position (it rotates). When combining these two features, the vertical setting in Streamcam, and the vertical plugin. You can have a really solid base for creating more short form videos!
---
🥡 Takeaways
I wanted to talk about this earlier in the post, but it was already getting too long if you will. However here is my strategy and current plan. I used various tools to repurpose my podcast videos into clips.
I've also saved a ton of gaming clips over the years, and while the regular channel and gaming channel are separate on youtube and instagram. My tiktok is a catch all, as the platform doesn't really care about your niche. More about the quality of the videos themselves. I also have used tools to generate tweets to video, or something along the lines of the text to speech style content I mentioned earlier.
My strategy:
I'll post one text to speech video in the morning, 5 or so podcast clips, and then one gaming video at night. From there I'll have 2-3 slots open for native videos to be made via stitches or audios from Tiktok.
Taking what we have talked about today, I hope it helps you on your journey!
Resources: