Hello, and welcome to the PolyInContent Digest Review of - Repurpose.io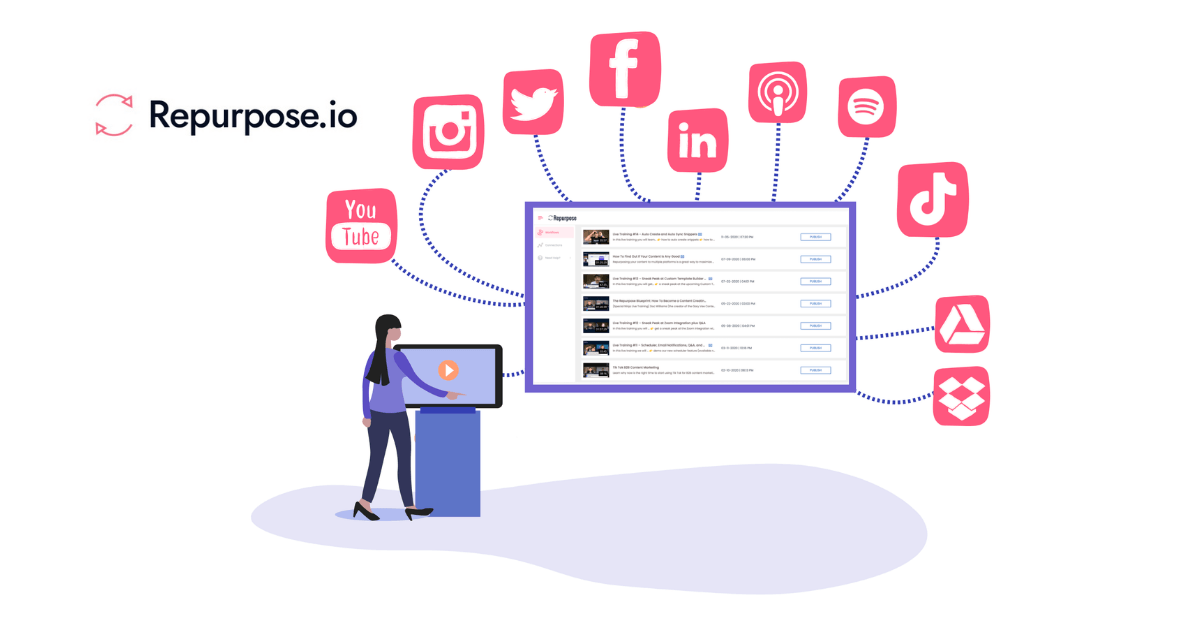 This is a tool for automated content repurposing, and unlike some of the other tools we have checked out on this list of reviews. This one can to a point be fully automated for you.
One thing to keep in mind for this series is that it is for giving and overview and opinion on various content repurposing tools out there. This tool actually gives me more Zapier vibes than say an editor, but it has that too.
The structure is the overview, pricing, pros, cons, and then any particular experience I may have with the tool good or bad. Finally, at the end I'll wrap up any extra thoughts.
❕
NOTE: This is not sponsored, and my opinions are my own. I aim to keep it fair and just, but my intention is to keep it real and honest. Although I do have an affiliate link to this tool, so I will be sharing that link today.
---
Overview
This tool does probably a lot more than you think it does, and I ended up having a debate in my head how much to share during this overview section. As I didn't want to share more here, than say with other tools.
However my thought process was that Repurpose is more than just a clips tool or video editor. It has a lot of unique purposes, and even a new AI caption generator.
"You can let AI generate new captions by clicking the AI icon found in the publish window." -Source
Given that there is more to do on this platform, then I figured sharing more images and words was needed to provide a proper review.
At first the dashboard seems like it might be a bit complicated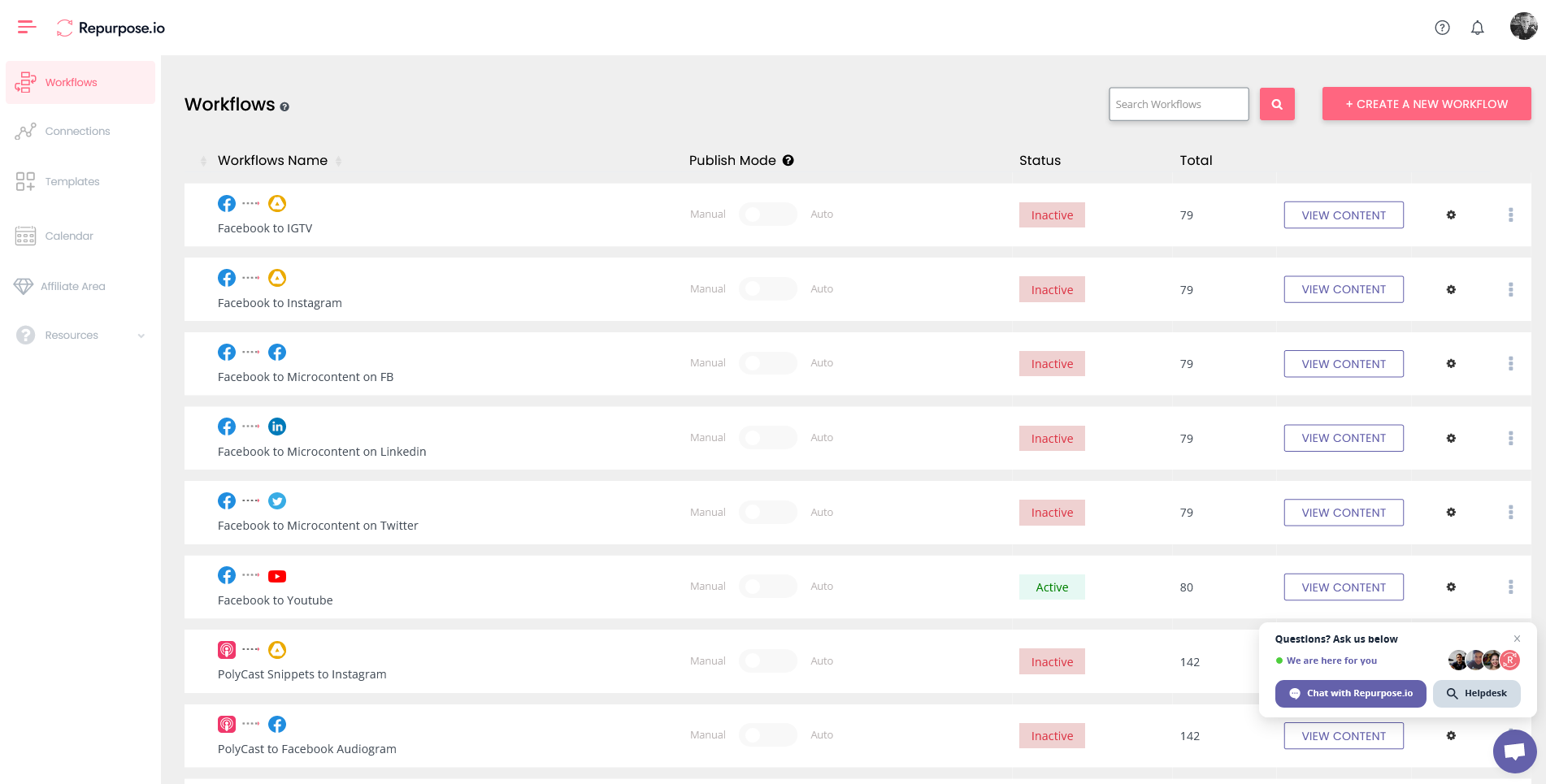 However once you start adding connections, then it starts to make sense.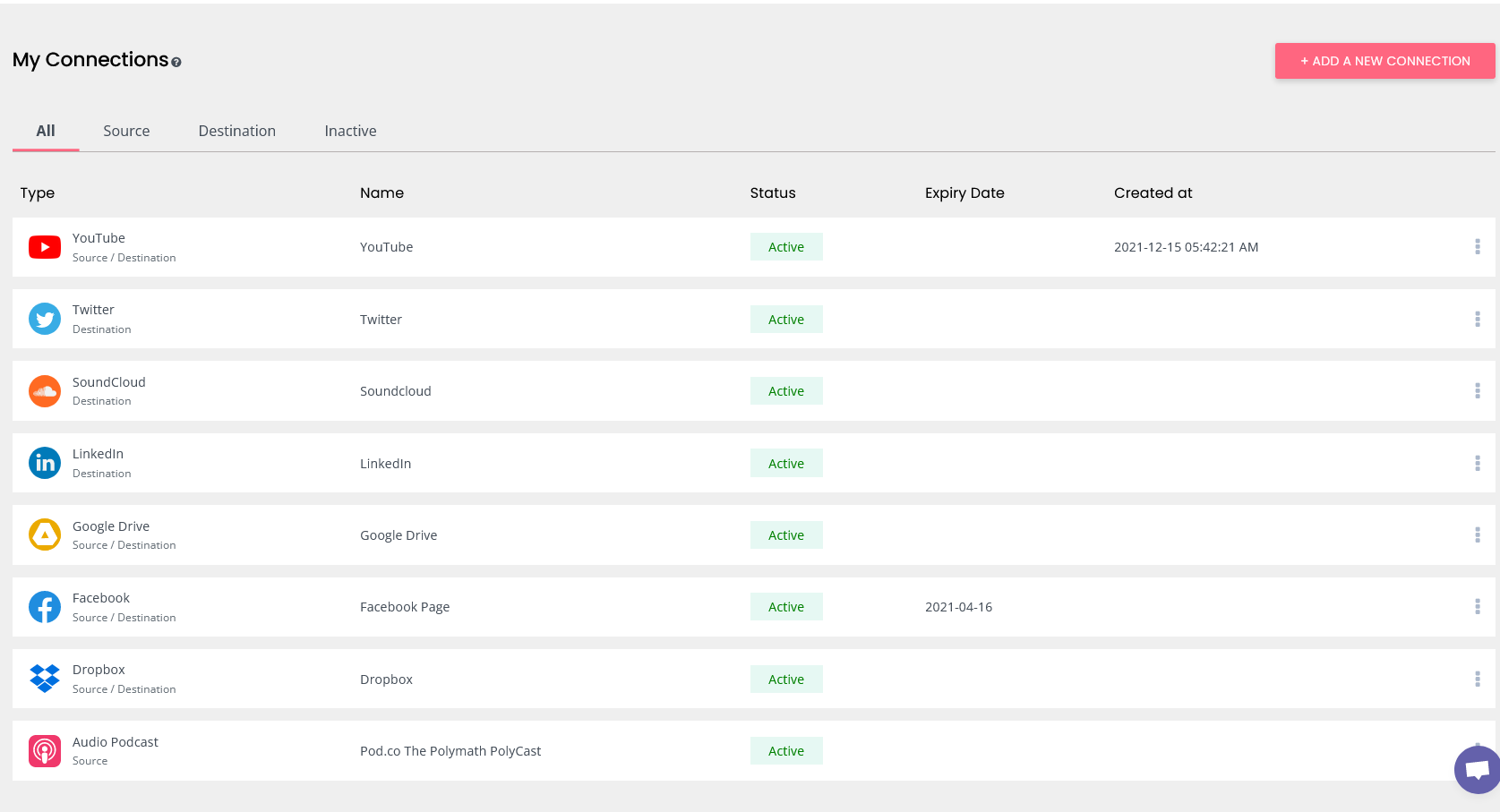 Given that I made these a couple years ago when the workarounds were different, then I'll have to actually change these up for modern use. Simply changing the input or making new workflows altogether (the latter might be what I go with since it has been a minute).
Something I'll discuss later in the review, in the "My Experience" section, was an critical issue I faced during an early version of Repurpose. I don't think that it is the case anymore, but due to an API limitation with YouTube; I had to make my source be Facebook instead, so that I could download from there to make into clips. Now you can just use YT, and it is a lot easier.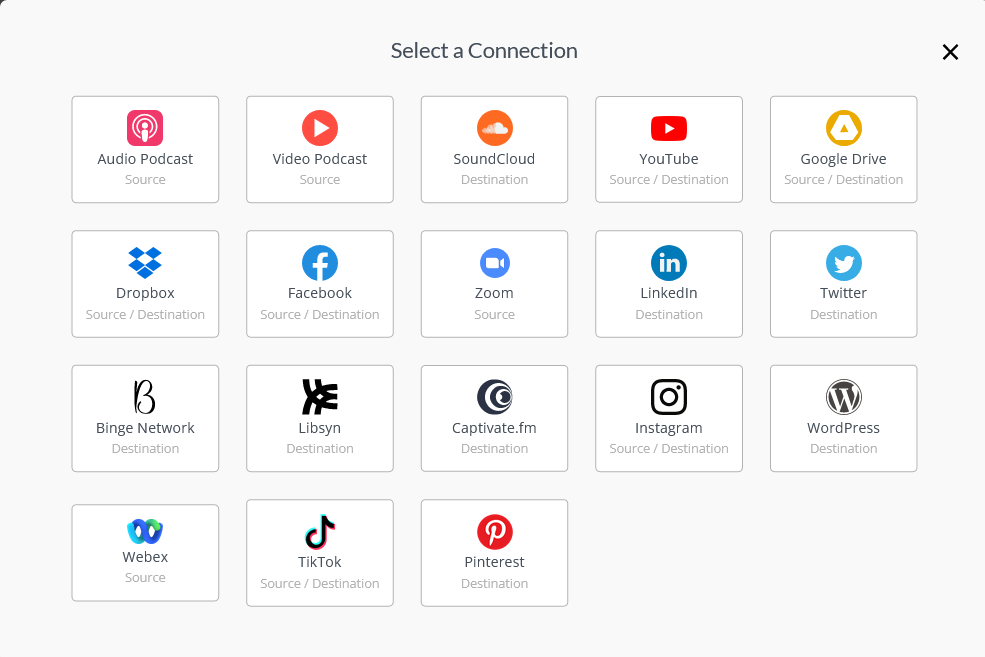 I would like to see Ghost CMS added to this list too.
Creating a Workflow
You can think of these as "If this then that" sort of thing, such as IFTTT or Zapier automations. Workflows can be automated or manual, and personally I still stick to manual. However it really depends on what it is, as some workflows may just make the video, and send it to your Onedrive for example for later use. You can also set it up to where if a new item gets put into the drive, then it goes out. All a matter of choice.
Step 1

Step 2

Note: The playlist on my screen is blank, but I think that is because I need to reconnect my YT after all this time. Totally normal, and even Buffer does this to me a lot more.
Step 3

In this example you have the choice of action, whether you upload a video, or cut the audio out of a video.
You can choose from a full video or clips.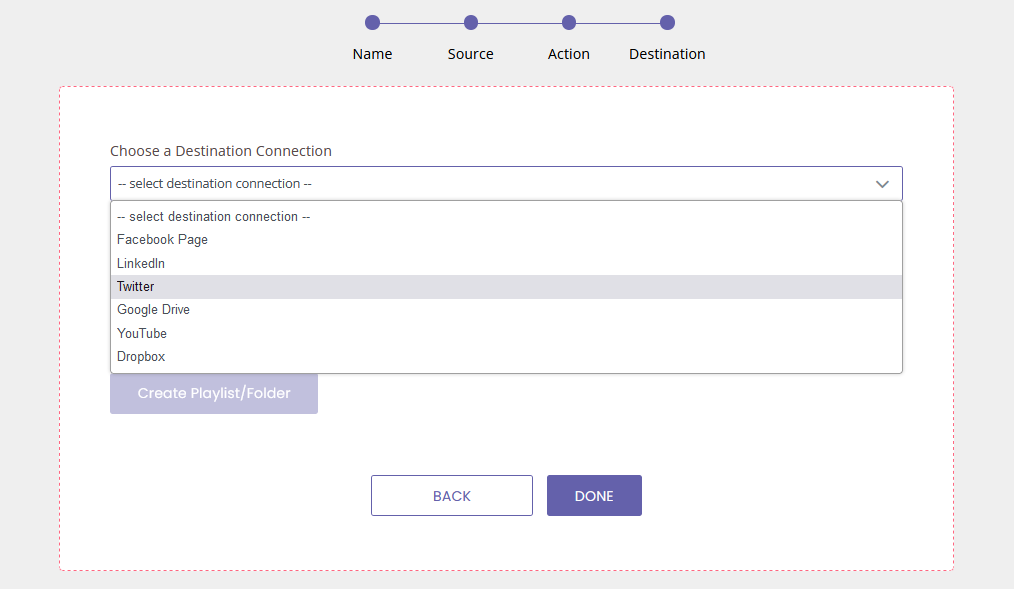 Step 4
Boom, now we can view the content to share into clips.

Click "View Content"
Template Builder
This tool is still being worked on, but has made a lot of progress it seems.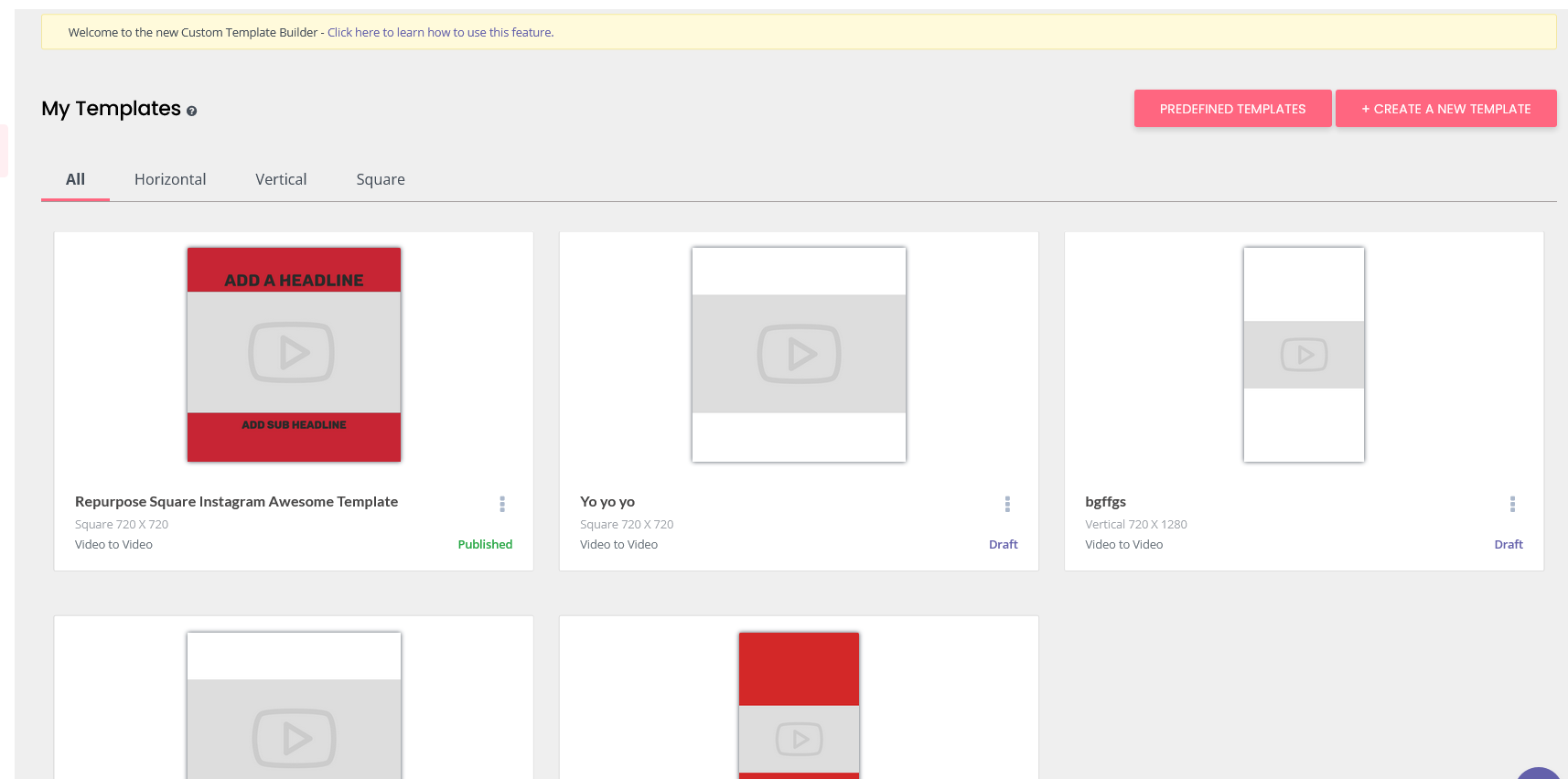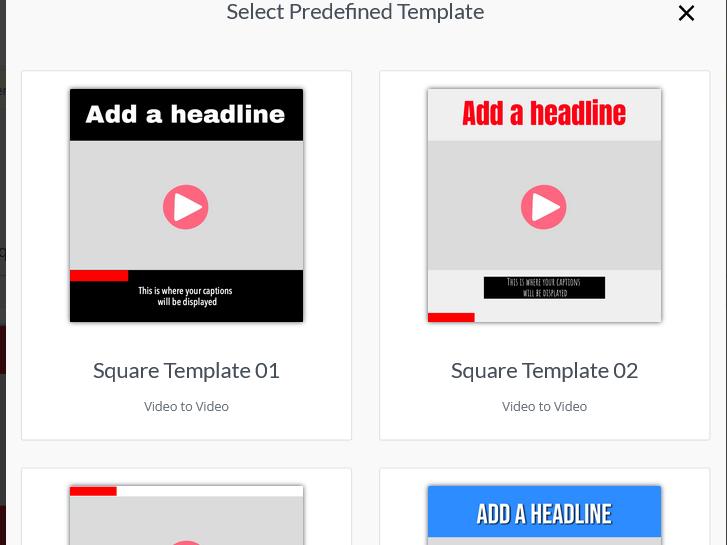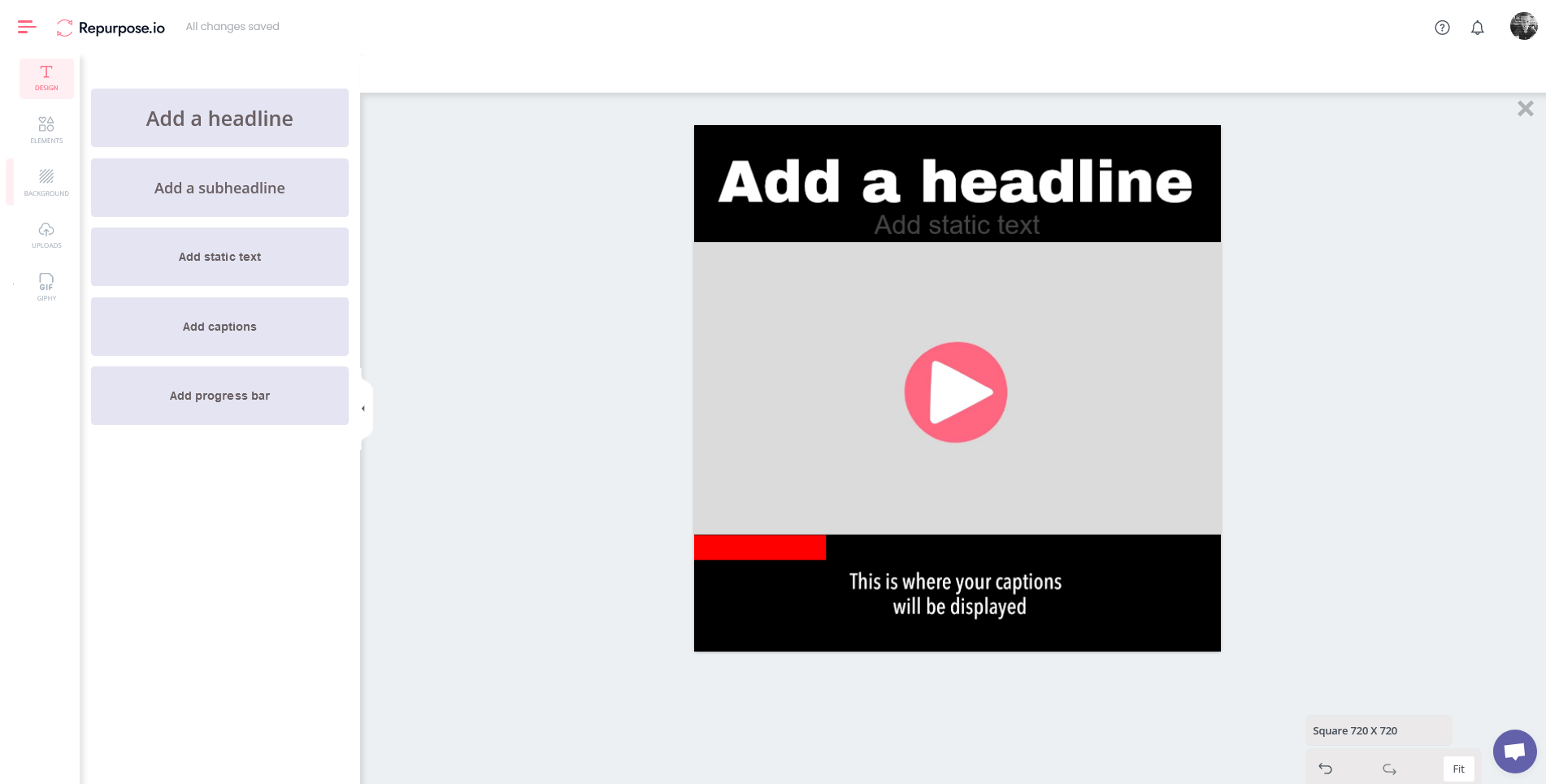 Honestly I'd consider this template creator to be the most robust. While other tools may have some simpler options to make it easier, or perhaps more premade templates to choose from. Repurpose takes a more Canva-like approach to give you options.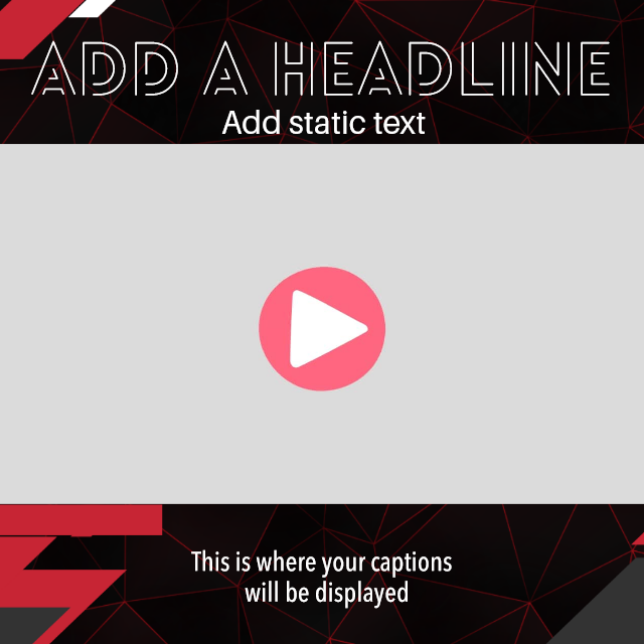 I wish I could search for fonts though, instead of just scrolling through them.
---
Pricing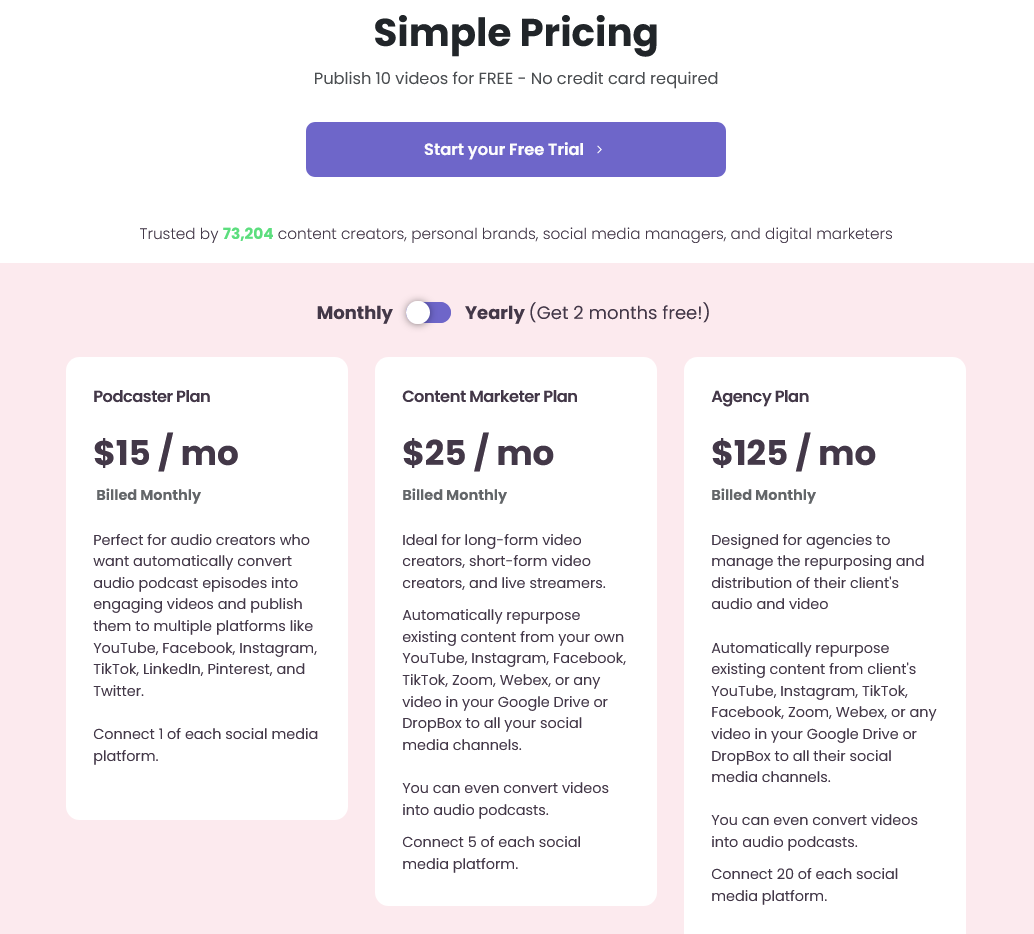 While if you are using the full capacity of the tool, then you'll be getting the benefit of the cost. I find that the podcaster plan just doesn't work for me, since I mainly do videos. I already convert my videos to audio when I render, so I don't need that automation at least. Perhaps it would be better to let Repurpose do it, but I don't think my podcast host is supported.
Meaning that I need the video plan, or "Content Marketer" plan. $25 a month is a pretty penny for me, and I am sure for many of you as well. Hence why you are here to find out if it is worth it.
I'd say if you are using at least 6 workflows, then the cost is worth it. I ended up only using it to a certain degree myself. That was a result of laziness though. Keep in mind the amount of social profiles you are able to add too "connect 5 of each media platform", that is a ton.
---
Weighted Pros/Cons
A pretty balanced list today in this tool review:
Pros
I've had a variety of reasons to reach out to support when I used the tool, from questions to bugs, and they were always really helpful and swift.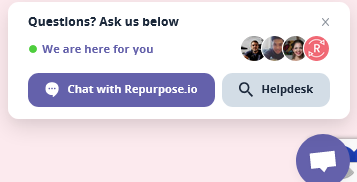 They provide tons of resources to learn from, and visualize the repurposing cycle. Including this amazing PDF https://repurpose.io/33ways/
Can connect to platforms that other tools don't even touch like auto post to certain podcast platforms. (will eventually get Wordpress too)
Pretty generous trial.
Finding your way around the website and tool is smooth.
Cons
The price is a bit high IMO. Worth it mind you, but I'd like to see a starter option limited by amount of workflows for really small creators.
If you are outputting a ton of content (30+ more a month), there may be a bottleneck processing wise. I doubt it now that the tool has grown, but I can't say for sure.
Can seem overwhelming at first (just look at the YT videos and you'll be fine)
Refreshing the connection with certain platforms from time to time.
Added: Long queue times, at least on free trial.
Seems like they removed the timeline feature to pick a specific frame of time for a clip (I'll remove this con if I am wrong).
Just like with other tools on this review list I get a bit nitpicky, but I believe in sharing as much information as possible.
---
My Experience
⚠️
Note: That this may be what I had happened, but your mileage may vary. This particular story happened a almost a couple years ago, and I want to drive home that this tool has evolved a lot since then.
I mentioned in the TL;DR that I found the tool in a deep rabbit hole. I was 300 tabs deep, and at the time there weren't hardly any of these tools out there in the wild.
I was awestruck, and immediately hopped on the support chat to learn more. As I had already exhausted the information on the site. At the time the team was smaller, and I ended up on a call with the Founder Hani Mourra himself. We ended up having a fantastic conversation about repurposing, the tool itself, and just being a creator.
Eventually would also have him on the Polycast as well! Having a blast chatting there too.
_ _ _
While I had a lot of good experiences with the tool, and at the time it was helpful to make clips (although I really didn't give enough time to doing that in retrospect).
I had some issues here and there with connections needing to be reconnected, and honestly that isn't a big deal. That happens all of the time with Social Media Management tools in that space.
My big problem experience happened when I was doing a TON, and I mean a TON of interviews on my channel. I cranked out nearly 80 in one year, and in the last month alone about 35-40.
That is prudent to the story, as at the time YouTube's API didn't allow you to download you videos externally. Even internally I think it was really convoluted, and because of that I had to make my SOURCE for the workflows "Facebook".
That way I could chop it up into clips, and then I would just use a workflow to do Facebook to YouTube to solve the issue of that cross posting.
Honestly I could care less about FB, even back then, and now I don't at all.
Although it was necessary for the process to work, and that isn't on Repurpose at all. Just a result of the circumstances, but that situation caused an issue when I was uploading daily interviews. Mind you mine are anywhere from an hour to two hours long, 1080p, and high quality file sizes.
That ended up putting a strain on the usage, and while ALL of the videos went through the workflow. In the end, 22 out of about 40 videos were not as they should be.
I had been so busy that I hadn't stopped to check the videos because every day I was waking up to edit the next one. If I had taken a moment to realize, that those videos were being sent as 144p or 240p resolution. I might have been able to fix it sooner.
Meaning that almost two dozen of my precious interviews (my main endeavor at the time) were at an unwatchable quality. Some of them with some widely known creators as well, and I hope it didn't tarnish my reputation. I digress.
In the end it was a limitation of software, APIs, and my own energy bandwidth. I should have made sure it was uploaded properly after the processing. It was just that the processing takes forever on YT, so I'd just not think about that. Anytime I'd look at the video, and see it blurry I'd think it was still processing.
I spent a weekend reuploading the videos, about 30 gigs worth, and fixed all of that. Even emailed each guest to let them know!
Take a break
That experience story happened a while back, and I don't think it adequately represents the tool as it stands now. I just felt it was imperative to share for an honest review. The Repurpose team is hard at work every day to make the tool even better!
Something I haven't messed around with yet (as it is new) is the Calendar.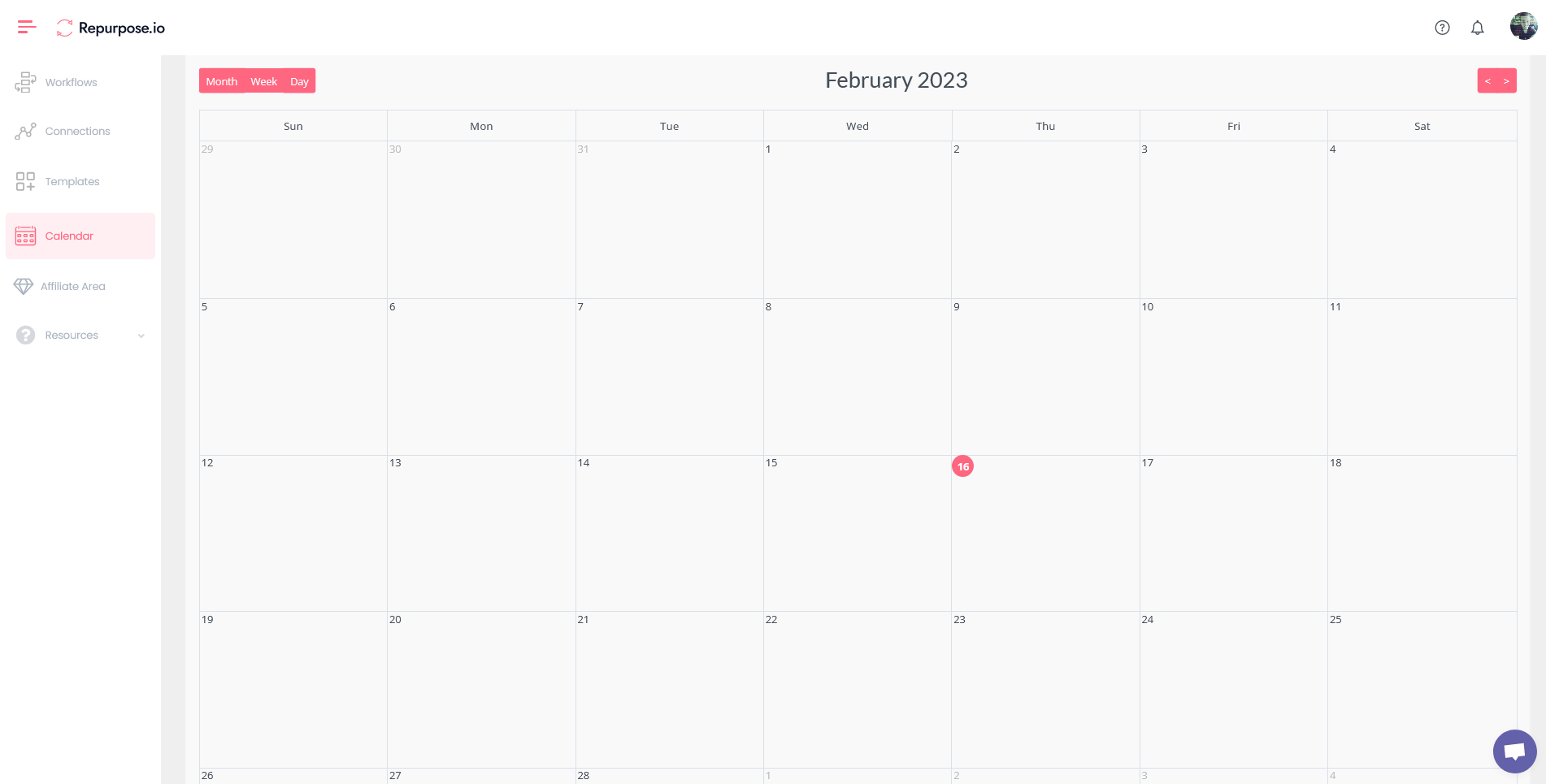 Although as new features go, this one actually is pretty important to me.
A Solid Mini Course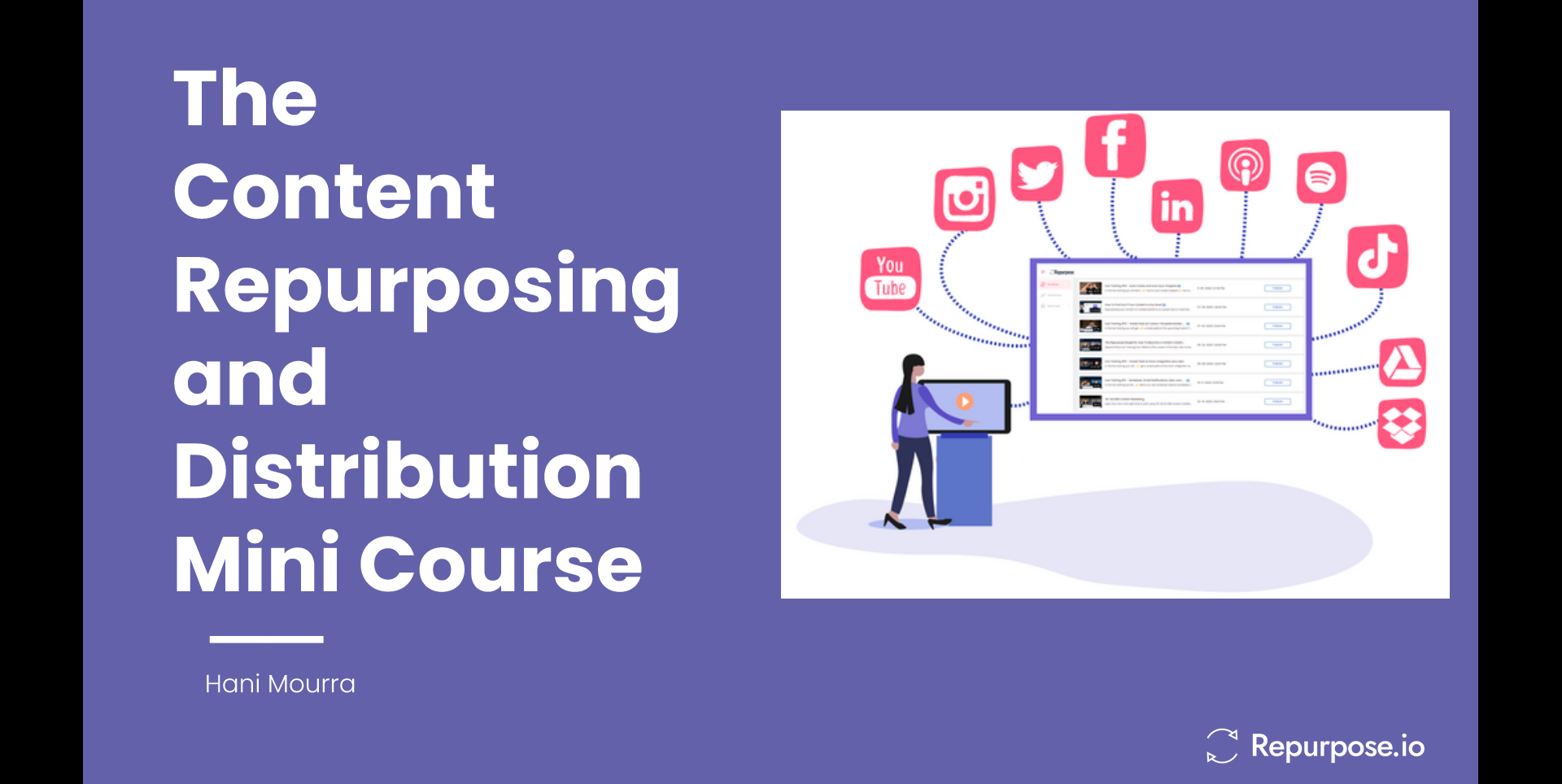 Now I took their mini course, and larger one as well. I find that the information is really valuable for those who may not already know it. Well made explanations too.
---
🥡 Wrap Up
A company that is honestly prolific with their own content creation to teach others about repurposing. Practicing what they preach if you will.
A tool that tries to take a polymathic approach, and over time is getting better and better.
A team that has been in the space for a while, i.e. the Founder had been making Video and Podcast to Wordpress tools well before the Repurpose.io dream came to fruition.
With all of those workflows, I think there is a lot of potential people aren't thinking about. Perhaps too this is a tool you can think of as like Zapier, where you use it to connect other tools as well. What if you have a particular editor you like on another platform (or a real person that does it), but you want it to automatically go out to various platforms (without having to do 5 expensive Zaps). Then you can set up workflows on Repurpose, say from a google drive for example, and send your content there.
I think that on its own it is a capable tool, perhaps out of reach price wise for many people, but worth it in the end. Especially the more workflows you actually use. Personally I'd like to see a mini plan, where for like $5 or $9 a month you can have just 3 workflows, but it wasn't limited to just Audio for example.
This tool has a lot of potential, and I really hope you go check it out!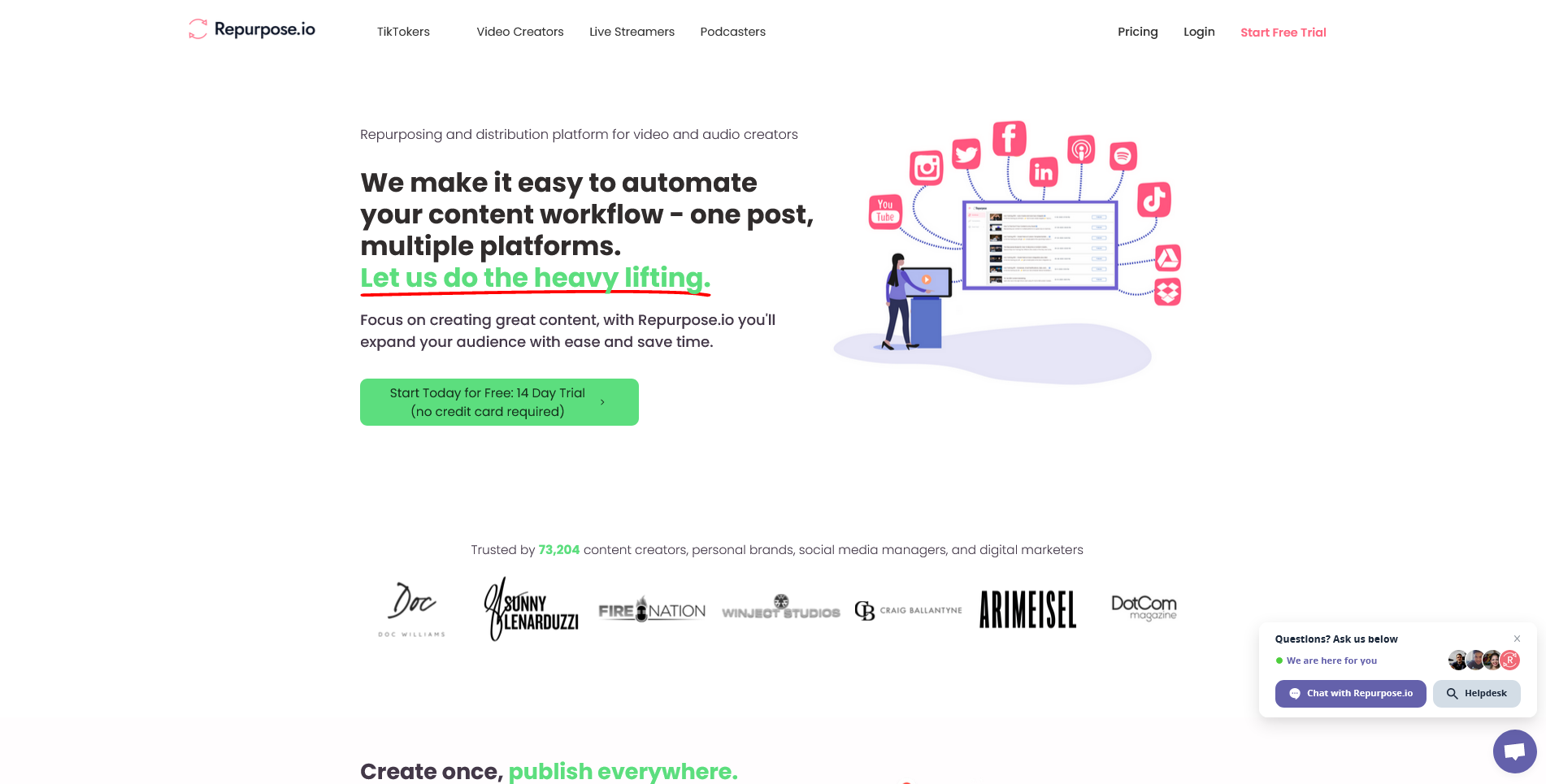 A polymathic, multiplatform, octopus-like reaching tool, that helps you automate your content creation and repurposing at a larger scale.
Think about having your own team like Gary Vee, but instead you just have a simple tool to use!
Again, this is an affiliate link, but it doesn't change any cost for you!
Start making your workflows work for you!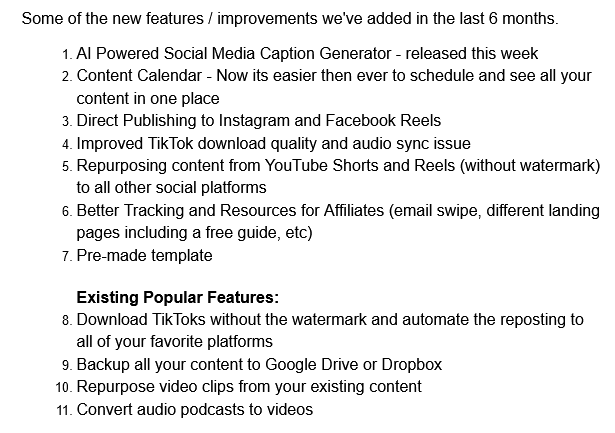 Resources: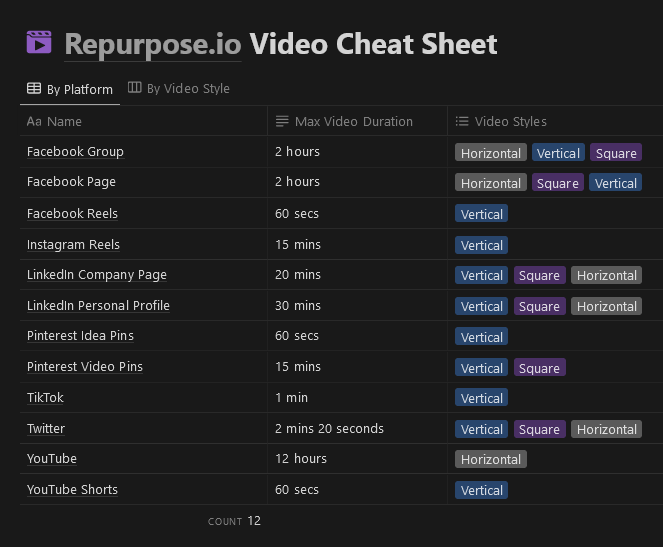 https://www.youtube.com/repurposeio